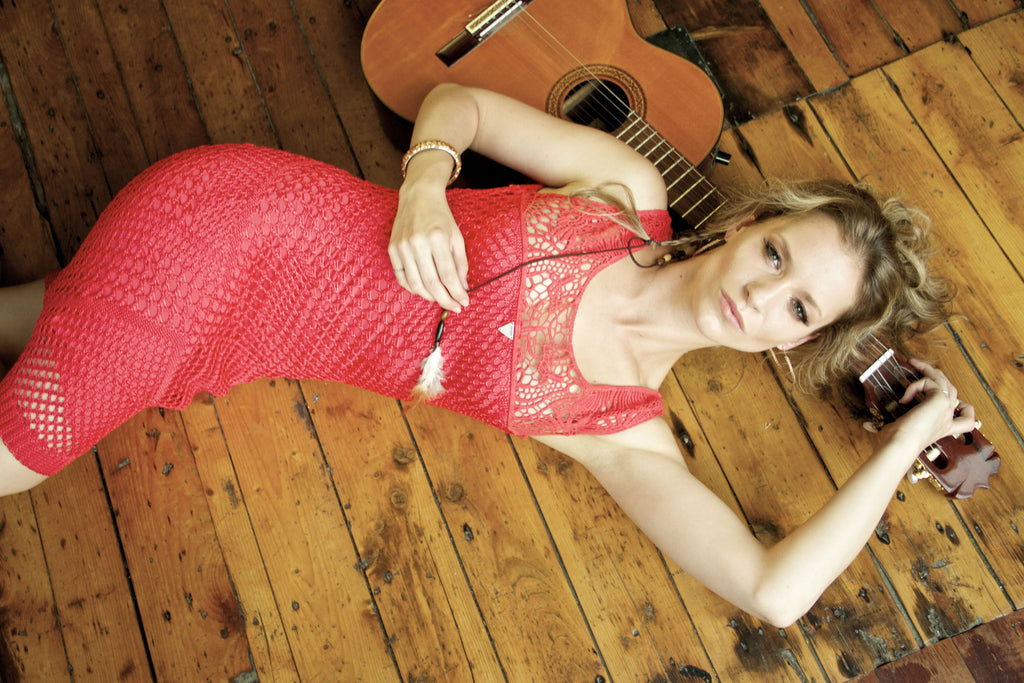 Canadian artist Mandy Bo writes highly personal songs, including the ones on forthcoming album 'Making Herstory. The goal: a universal connection. As fans connect to Mandy's own stories of joy and sorrow, hope and pain, they find their own journey inside the melodies. With a new album, tour and live album on the way, Mandy will be sharing plenty more in 2016 and beyond.
You're heading out on tour and recording a live album in the process. Is this something you've wanted to do for a while?
Absolutely! Being able to be with everyone and have these experiences is what I live for and is everything that I have been working towards for so long. There is nothing else in the world like it. I already know most of the people I will be seeing, as they've been in communication with me via email or on social for some time now and following my career. I am very excited to meet them. They've really made all of this possible and are truly an inspiration to me.
Does knowing a show will be recorded for a permanent listen make you a bit nervous?
Not at all. I have a great band of professionals working with me, and we are rehearsing very hard. Even if mistakes do happen, it's part of the beauty of it all. I love that I will have this moment on tape for the rest of my life, because right now it is going to be the most amazing thing that has ever happened to me. In fact, I've been treating the whole thing as a wedding. [Laughs]
I feel like this is it, my true commitment to music. Sure, we've had our ups and downs, sometimes we don't get along, but the love we have for one another is beyond time and space. I'm even going to wear a white dress for the occasion. There's gonna be great food, liquor sponsors, décor will be gorgeous, and it's a VIP event, so luckily I get to hang out with everyone the whole time.
We are also recording it to submit to the Juno Awards. I just love that everyone at the show that day will be part of both the live album recording and the video. I think it's pretty cool, and I have a lot of fans from all around the world who can't be in Toronto that day, but no worries we will be live streaming the whole thing to them.
The songs on 'Making Herstory' sound like they'd be very personal. Is that true?
Yes the songs are very personal. I believe that despite some of the details are unique to each individual's story, we experience things in a very universal way. I am sure if I have gone through something, others have too. The emotions are the same for everyone. We all feel very deeply and that is how I know people will connect with what I have to say — because it's not my story, it's our story. Sometimes these things can be hard and painful to talk about, sometimes they are just fun stories, but we love being able to share them with each other and say, "Me too."
You've written a book that's being turned into a film? Can you tell us more details?
The book is about my mother's struggles with a very rare disease since birth called Sturge-Weber syndrome. She was born with a birthmark over half her face, which is a layer of blood vessels over her brain that could burst at any moment. This has caused her a lot of severe problems in life, and she has spent most of her adulthood homeless. I am not sure why I had this urge to write the book, but it was a very strong calling that I could not ignore.
When I brought the idea to my grandfather (her father), he said that he had always wanted to write one too but that he could never find the courage or the words to do so. He had been approached many times by reporters looking for a "scoop" but he wouldn't tell them. I felt very honoured that he was willing to share all the details with me. He handed me a giant folder full of court documents, psychological assessments, news paper clippings, etc. and we sat down and I recorded his story over several days (he was undergoing cancer treatment at the time). I spent the next three years compiling everything into "Michele".
I originally posted the book online for my grandfather and family to follow along, since he didn't have long. I never advertised the book at that point, and it received about 10k hits online. From there, I finally decided to print it myself for friends, family and my community who were requesting signed copies. I've recently been approached by companies looking to officially publish "Michele"" as well.
I also wrote the book into a script because I felt that my mother's story really needed to be heard and I thought it was a good medium to do so. It took years to write the script. It is a feature-length piece and has been a finalist at several very well-known international scriptwriting competitions. Production planning for the film will begin about next March.
You're putting together a House Concert Tour for this summer. What is it about that environment that you enjoy most?
Music is how I connect with people, which is very hard to do in a crowded venue. With house concerts, people are in a comfortable and familiar environment with their friends and loved ones where they are free to be themselves and open up. This allows for real connections to take place. I want to have the opportunity to be with my community who have helped me reach my goals and show them the love and respect that they deserve. These private and intimate settings create much more meaningful and memorable interactions between us all. I really cannot wait; it's going to be a very moving and humbling experience.
Original source: PledgeMusic.com