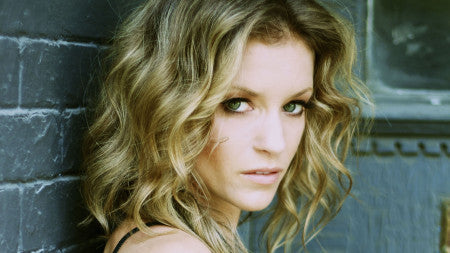 Hey Bloggers! We're chatting today with an amazing talented woman that approached us on Twitter, Mandy Bo! Mandy is a (primarily) Canadian singer/songwriter, author and actress. She grew up in Windsor Ontario and moved to Toronto when she was just 17 years old. Mandy's music is a mix of Country, Pop and EDM.  She's starting to earn global recognition with radio and satellite air time, TV, newspapers and magazine exposure.
Her new EP "Making Herstory" is just about ready to be released, and Mandy will be hitting the road with a summer tour. Her live kick off show will be recorded and turned into an album. You can help support Mandy and her tour and pledge the project by prerecording the Live album and also have a chance to score some autographed merchandise. Mandy is also offering at home concerts, so be sure to stop be her site for more info!  Her current single is "Pay the Price". Stop by her page and sign up for mailing list and get a digital copy of the song.
Mandy, thank you for reaching out to us! You are quite the woman, and we are so excited to speak with you.
First off we want to know, what made you want to cross country music with EDM? Looks like you've been doing that for a few years, and it's something that we're seeing more of lately with DJs touring with national Country artists.
Thank you so very very much for the kind words and inviting me to chat with you.  Yes I have been working on this sound for about 4 years now!  I'm seeing a lot more of it Pop up everywhere in mainstream country and on the EDM side as well.  I originally wanted to cross the two genres because I  really love live Americana instrumentals but also am a huge fan of EDM, Avicii, Morgan Page, etc., and I just wanted to make music that I liked and wanted to hear.  While I love strings, I am very drawn to bass and feel it really helps to push songs forward. Also, while strings take over emotions, bass seems to take over the body.  I thought that was a very cool combination.
You left acting (or put it in hold we'll say) to pursue your music full time. Do you miss being in front of the camera that way?
I made a choice to leave acting.  Having to spend time memorizing lines and running around to auditions was detracting from making music.  There is a lot I have to do for music as far as rehearsals and designing new things, writing song, and so so much more. It was a very easy choice.  I do definitely miss being in front of the camera.  To be honest though, I never loved having to say someone else's words all that much.  I think that is why I was so much more drawn to music; the songs are my words I am singing.  I am currently working on producing a film that I wrote based off my book "Michele".   The script has come in the quarterfinals of a few international film festivals and screen writing competitions and I am really looking forward to playing my mother in the film and getting back in front of the camera in that way.
Listening to your past singles, they're all very different from each other. "Vegas Baby" is a song I'd expect to hear while out in a club or perhaps even a clip of it during a sporting event to get the crowd hyped up.  "Wait For Me" is a more traditional Christmas Country Song that would be great for holiday commercials and for radio airplay.  "Old Morty" has such a story to it, feels like you're listening to an old western play out. "Pay The Price" is country with the EDM touch to it. That song would make for some good line dancing!  What can we expect on your EP "Making Herstory"? Is there more country on it then EDM?
I know! I've done a lot of experimenting and collaborations that have resulted in this wide range of styles.  The "Making Herstory" EP is a collective piece though.  They are all fun upbeat songs with very similar melodies and a combination of country and EDM (but def heavier on the country side as that is my true passion).  It is the first collective piece I have done which is why I titled it "Making Herstory".  This is the beginning of own story as an artist.  While the full EP is available right now on www.pledgemusic.com/mandyboto pledgers as an instant download with any pledge (as well as some surprise gifts in the updates area), the second single off the EP called "I Promise" will be released to the public in a couple of weeks in mid April.   This is my favorite song off the whole EP and I cannot wait to share it.  I created a lyrics video for it myself and everything.
Will these be all original tracks? Are you including any tracks that people have brought to you?
The EP is three original songs.  I write all my own songs, so yes.  I do like to do covers of my choosing that are important to me and have an important story to tell for me, but otherwise I do all my own writing. This is very important to me, writing is what bring me peace and makes me feel complete as a person.  I do love collaborating with other artist and often will ask friends who are great songwriters for their advice and assistance.  I really respect their opinions. I have yet to do a song yet that someone else has just sent me. That's not to say that I wouldn't, I just haven't found one that I can really connect with yet.
How did you come up with the title "Making Herstory"?
Haha good question.  Sometimes I have no idea how I come up with these things.  A lot of times song and titles just pop in my head while I am sleeping, as if someone else just left it hanging in the air waiting for me to grab it.  A lot of times I feel like I don't even write my stuff but that some type of creative god handed it to me…as if to say, "Ok, you are ready now. You've earned this."  So one day it just came to me and I thought, "well…that seems very fitting as this is the true beginning of my story. This is the first time the world will get a real glimpse into who I am as an artist."  And then I just thanked the Universe and the Creative Gods.  
Your videos and photos shoots show you in everything from swim suits and lingerie to shorts, a tee shirt and boots. You look good in everything! Tell us about your style/fashion. What do you feel most comfortable in? Do you have any go to pieces you wear while performing?
Well that is so very sweet of you!  Thank you.  I have help from makeup, hairdressers, wardrobe and photographers so that helps.  My personal style is like bohemian country chic.  I love to wear comfortable lace dresses and jean shorts with cowboy boots, lots of feathers and leather.  Chunky jewelry…almost always have my wood rings on (hoping to team up with someone and create my own! Be so cool). So, that is what I am most comfortable in.  As well, I am a total beach bum (or I would be more of if it wasn't always so cold in Canada), you can almost always catch me in a bikini in the summer.  As far as something I always wear…my leather and feather hairpiece.  I've been wearing it for years and you can see it in the Lullaby cover, the Lullaby video and just about everywhere else.   I also love my one pair of American Eagle jean shorts…they are just so comfy.
You wrote a book about your mom entitled "Michele", and you have hopes of turning it into a movie some day.  It's a heartbreaking story, which sheds light into her medical condition, as well as your upbringing. Why did you want to share her story? (For any of our readers that are interested, you can purchase the short book for a small fee online.)
I have always been a writer, I have two honors degrees in writing now.  I was in university and I knew I wanted to write a book but not just any book. I had no idea what I wanted to write about and so I spent years trying to figure out why it was I wanted to write one and what it would even be about.  Like everything else in my life, it just hit me one day. I have no idea how. When I approached my Grandfather about it he handed me a giant green folder filled with newspaper clippings, letters from lawyers and social workers, psychological assessments, court documents, etc., and he said that he had always wanted to write one too but that he could never find the words to do so.  It was the first time I had ever heard that.  I just find it so crazy that when you find that thing that you are meant to do (your purpose) how everything else just falls into place. The same thing happened for me with music (except I knew I always wanted to do it, but once I did my whole world just made sense).  That book has brought me so much insight and fulfillment in my life that now I don't know how I could have ever not done it.  It's brought me closer with my whole family; I think it has helped us all understand each other a little better because we've taken the time to see how we've all been affected by everything that has gone on in our lives.  So long story short, I shared it because I had to…in some way I didn't really have a choice in the matter.  
Lastly, tell our readers about when you're new EP will be out and why they need to check you out!
Haha the full EP will be launched in June along side the Summer House Concert Tour launch and kickoff show!  It's coming up soon..I am so super duper excited!!!  I'm gonna be performing you your backyards, get ready.  But, if you want to grab a copy before anyone else, it is available at www.pledgemusic.com/mandybo along with some other fun surprises. You can also sign up there to host an acoustic concert in your very own house at no charge; they are donation-based concerts.  As far as why you should check me out…I love music so much.  Nothing makes me happier. It feels like a dream come true and I put my absolute all into my music. I have sacrificed everything for this passion, this love.  The best part about it all though, is sharing it with everyone.  It makes it all worthwhile. I hope that in following my dreams and rising up from where I have, I can inspire others to do the same. I love seeing others chasing their passion and helping them to achieve the unachievable.  Everyone told me I "can't" and I "shouldn't", but with the help of my friends, family and fans I have and together we all can.  We doing the impossible and I want you to join me in the journey. It'll be a hoot watching it all unfold 
Thank you so much for talking with us. You are incredible. We love you, and we'll be figuring out a way to get you down to the States now. Can't wait for your EP to release!
I love you too, SO MUCH!  You've made me feel wonderful and warm and fuzzy inside with all your kind words.  I am so sad it is over now…but I cannot wait to go to the states!  Been a big goal of mine, love y'all down there.  Xoxoxxoo Mandy Bo
Be sure to follow Mandy on Facebook, Twitter and check out her page www.MandyBo.com
Original Source: Stormin' Country