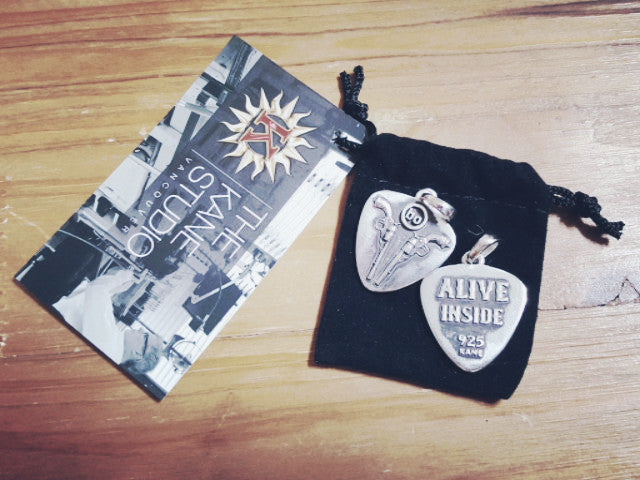 Alive Inside Guitar Pick Pendant Necklace - Sterling Silver
This guitar pick pendant was specially designed for Mandy Bo by International Award winning jewelry designer Kane Boutry of TheKaneStudio.com, for the VIP Event recording of the Alive Inside album. 
On one side is Bo's trade mark with a pair of antique female dueling pistols in a high relief sculpt . On the reverse side is written "ALIVE INSIDE" in a raised text sculpt. This stunning one-of-a-kind statement pieces showcases the artistic skill, meticulous attention to detail and design ingenuity of Master Craftsman, Boutry.
The Kane Studio is involved in every stage of the jewelry making process - from inspired design and hand fabrication to final setting and polishing of each jewel. Award winning diamond designs and exquisite hand carved creations, have made The Kane Studio a destination for those seeking only the best.
After creating his first silver jewelry line, Kane so impressed rock band Motley Crue that members Nikki Sixx and Tommy Lee placed custom orders and decorated the cover of their 1994 self titled release CD "MOTLEY CRUE" with four of Kane's creations!
Other A-list clients soon followed, including rock icon Mike Reno of Loverboy, legendary blues musician Jim Byrnes, and supermodel Grace Jones.
Singer, songwriter, author and actor Mandy Bo and International jewelry design award winner Kane Boutry of THE KANE STUDIO met and began co-creating together.